If you haven't noticed, May has been a very busy month for Google. They have announced 2 significant updates – one that's already happened and one that's coming next year.
The Update that's already happened
On May 4th, Danny Sullivan, Google's public liaison for search (@searchliaison), announced the May 2020 Core Algorithm update: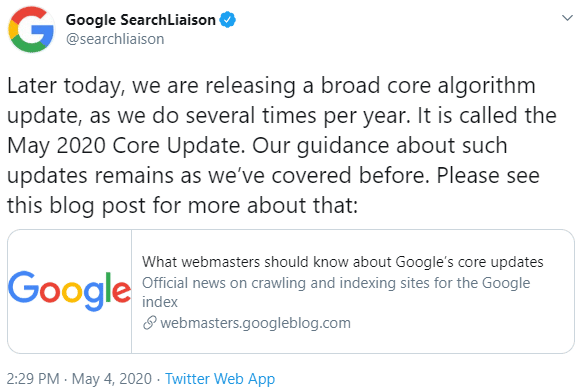 An announcement like this is a big thing.  Google is notoriously tight-lipped about commenting on changes to its algorithm, so when an official acknowledgement like this comes out, it's something to pay attention to.
Google does over 400 updates to its algorithm a year, but a "core" update is important because it's a large change to their algorithm, and that means it will impact a lot of sites.  To give you an idea of just how big the May update was, have a look at the SEMRush Sensor for the last 45 days:

The SEMRusg Sensor measures volatility in Google SERPs over time. That peak you see in the middle of the chart – that's the May 4th update.  And you can see how large it was compared to the updates – the smaller peaks – that typically occur in the course of a month.
According to SEMRush, the most volatility occurred across travel, real estate, health, pets & animals, and people & society. Here is the chart of breakdown volatility by industry: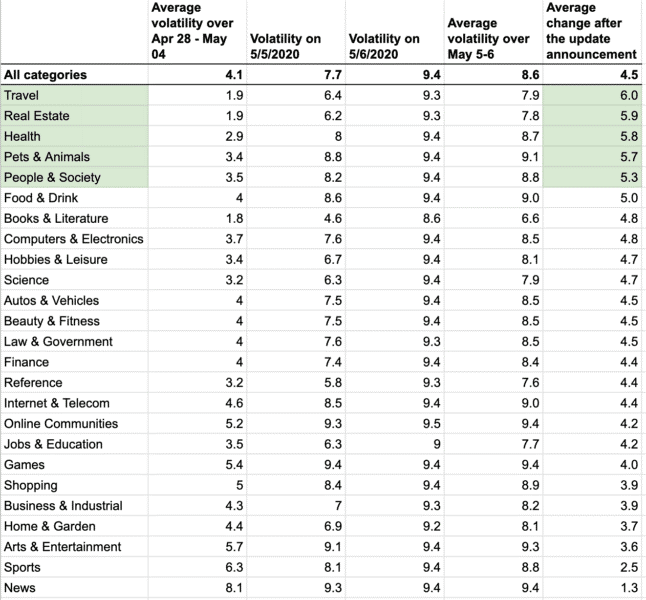 Some of the big winners were local.com, yellowpages.com, superpages.com, businesswire.com, prnewswire.com, globenewswire.com, xe.com, mapquest.com, and gamekidgame.com. The losers were linkedin.com (note, this site had a big issue on May 6th), manta.com, allmusic.com, idaily.com, nypost.com, discogs.com, afiavillage.com, eventbrite.com, peoplepill.com and owler.com.
According to Marcus Tober from Search Metrics, "…the update seems to be broader than former updates. Less focused on typical E.A.T. (Expertise – Authority – Trustworthiness) areas. With former updates you normally have a large medical site like the WebMDs or Mayoclinics among the winners.  That wasn't the case here with this update…" He went on to say that he thought, "…Google was working again on content factors combined with brand factors (maybe including CTR/user data)…"
A few days ago, on May 27th, Google announced that the PageSpeed Insights report In Google Search Console was being rebranded into Core Web Vitals. Something like this isn't as noteworthy as an algorithm update, and truth be told, when the announcement came out, I kinda said, "so what?" That's because Core Web Vitals are a set of metrics related to speed, responsiveness and visual stability which are designed to help site owners measure user experience on the web.
According to Google:
"Core Web Vitals are a set of real-world, user-centered metrics that quantify key aspects of the user experience. They measure dimensions of web usability such as load time, interactivity, and the stability of content as it loads (so you don't accidentally tap that button when it shifts under your finger – how annoying!)"
If you've been doing SEO for any length of time, you're already using these metrics.  Google packaging them differently is no big deal. But if you're looking for the information in your Google Search Console account, you can find it on the left side of the navigation under Enhancements: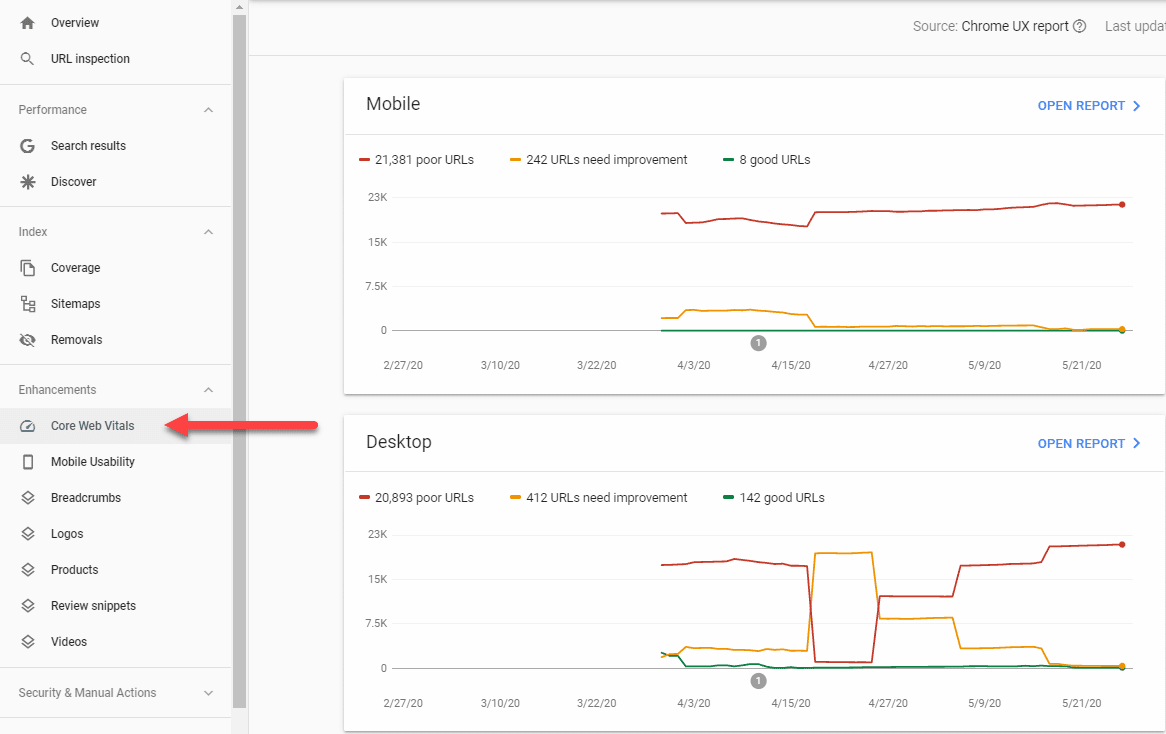 And then a day later, on May 28th, Google announced that a new signal called Page Experience" was going to become a ranking factor.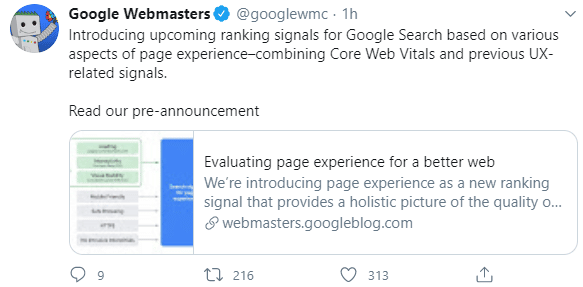 This new signal (https://webmasters.googleblog.com/2020/05/evaluating-page-experience.html), which is the combination of Core Web Vitals (announced on the 27th) and existing page experience metrics, is known as the Page Experience signal.
The existing page experience metrics being combined with Core Web Vitals include:
Mobile-friendliness
Safe-browsing
HTTPS-security
Intrusive interstitial guidelines
Here's a more visual representation of the update: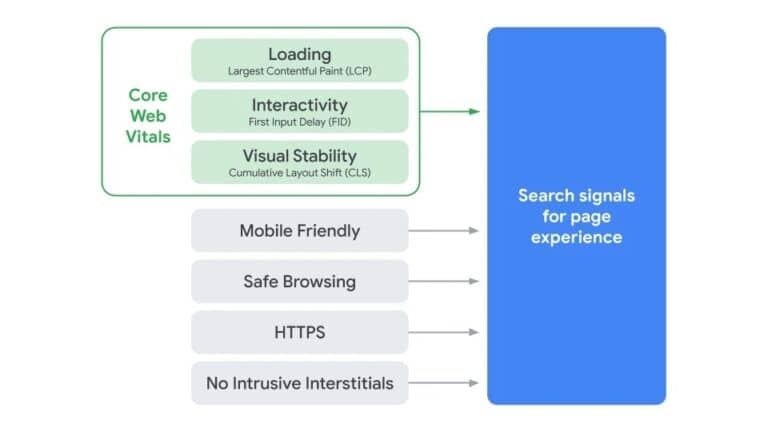 When it comes to ranking pages based on page experience, Google says it will prioritize pages with the best information overall.
"A good page experience doesn't override having great, relevant content. However, in cases where there are multiple pages that have similar content, page experience becomes much more important for visibility in Search."
Other changes that are part of this update include incorporating page experience metrics into ranking criteria for the Top Stories feature in Search on mobile and removing the AMP (Accelerated Mobile Pages) requirement from Top Stories eligibility.
To be clear, Google's core ranking algorithm "listens" to 130 different signals, some off them onsite and some of them off site, when it comes to determining how it feels about your website's content and authority. What's significant about the announcement of this new ranking signal is that it won't be implemented until after the 1st of the year. That's huge. The last time Google gave this much advance notice of an upcoming change to its ranking algorithm was in 2016 when they announced the upcoming Mobile First Update. That update wasn't even tested in the real world until the fall of 2017 and its rollout wasn't completed until August 2018. Something else that's significant? Google has committed to providing webmasters with at least 6 months away – a clear indication that the impact they expect this change to have is going to be significant.
Why this is important to you
Google will never share what changes an individual Webmaster or website owner needs to do to make their website perform better on SERPs. But they do drop hints from time to time (like this).  By reading the tea leaves, monitoring the incremental changes to the algorithm, and reviewing the general guidance in their Search Quality Rater Guidelines handbook, we can make some assumptions.
That this update will be focused on usability, speed, security, and mobile friendliness.
It will likely have a positive impact on websites that have been designed for people who use their handheld devices to search and browse the web and have a negative impact on those websites whose designs fail to take mobile browsing into consideration.
Given the time it takes for many websites to go through a proper re-design and development process, that doesn't seem like a lot of time. Put another way, now seems like a good time to start thinking about your roadmap going forward.
Please reach out to myself, Eleanor or Natalie if you have any questions on how any of this might impact your website.