For anyone who really interested in the Customer Journey – not just how people find your website, but how they use it – Microsoft's integration of Clarity with Bing Webmaster tools is a welcome step forward.
Clarity allows website owners, administrators, and analysts, to see exactly what visitors are doing on their website without infringing on the visitor's privacy. Using Clarity, you can visualize how the site is used in the form of click & scroll heatmaps, and can even replay entire user sessions.
Setting up Clarity is super easy.  I've just connected 3 websites in less than 10 minutes. Full disclosure: all of the websites are on WordPress and all are using Google Tag Manager.
Now, when you sign into Bing Webmaster Tools, just click on Get Started in the Clarity widget:

You'll see a confirmation that the site has been added. Just click the Go to Clarity button.  (Yes, it's an extra step, but not a big inconvenience.

You could also just go directly to the Clarity projects page: https://clarity.microsoft.com/projects
What you'll see are a list of all the websites where you've enabled Clarity. The numbers at the bottom left of the tiles are for the number of admins and users for each site:

So what do you get that you didn't get before? Mainly, you get a different way to look at the data that the one that Google Analytics gives you. That's huge.
For example, this some data for the Porsche Club in Connecticut. The left screenshot is Google Analytics and the right screen shot is Bing's new Clarity product. Keep in mind I've just set this up, so you're only looking at about 30 minute's worth of data.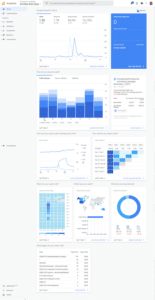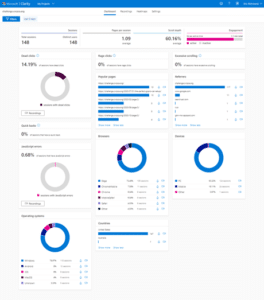 If you need to know what any of them mean? Click the little information icon next to the heading: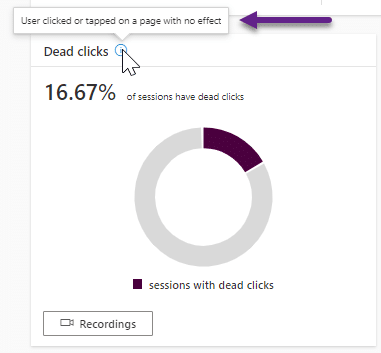 All of the charts in the Clarity dashboard are interactive.  Hover over any of the charts and you can click into the segment for additional detail.
For the Popular pages, there's a bar chart to show popularity based on number of views.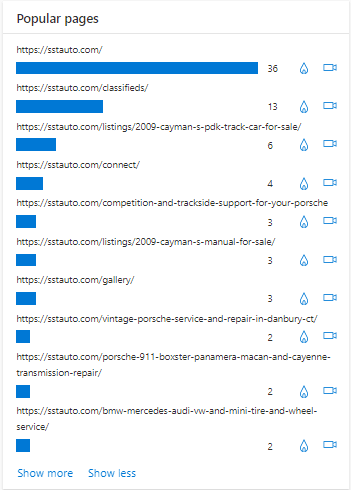 Click on the match head icon and you can see the heatmap for that page as well as a list of the elements that got the most clicks: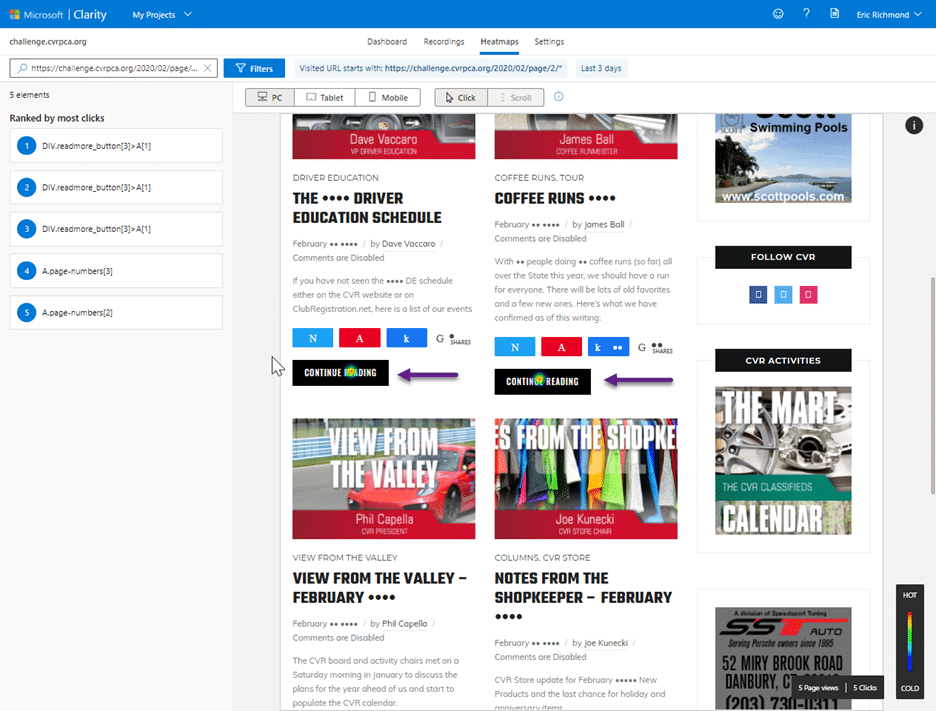 Click on the video camera icon all the way to the right (below), and you will see a recording of user interaction with the contents on-page.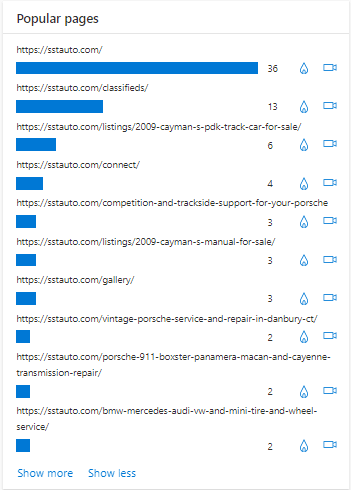 This one is a small clip from one single user session right after I set up the tool.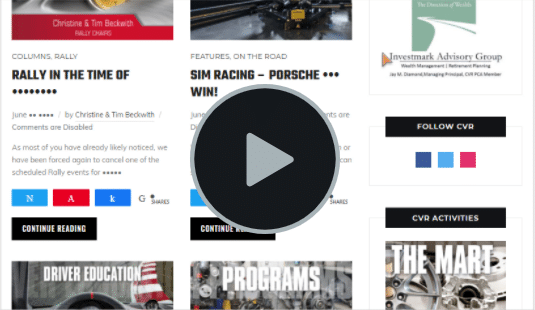 Why is any of this important?
User experience – how your User uses your website pages to perform tasks that are important to them – is critically important to the success of your website. A good User experience will lower bounce rates, increase pages per visit, increase time on site and if you are selling something, increase the size of your shopping bag, and raise your conversion rate. All good things. But a bad User experience will not only depress all of those metrics, it can have a very real depressive effect on your Google Organic Search rankings. All of that, plus the upcoming Page Experience Update to Google's algorithm (planned for May of 2021) is why information like this is of critical importance.