Google has expanded their definition of acceptable scores in the Core Web Vitals report in Google Search Console.
According to a story in Search Engine Land, if you check out your core web vitals report within Google Search Console over the next day or two, you may start to see a lot green in your scores. Sadly, unless you've been crushing it on performance and usability enhancements in preparation for the upcoming Page Experience Update this May, it's probably not because of anything you may have done to improve your site metrics. For most of us, it's because Google made a small change to the metric boundaries that determine whether your website deserves a red or a green score.
In this case, a small change means that breakpoints for good and needs improvement that used to be "less than" are now "less than or equal to". 
Small, but significant.
If you're not an SEO geek, you're probably asking yourself, "what ARE core web vitals and why are they important to me?"
Core Web Vitals, are a set of metrics related to speed, responsiveness and visual stability.
Largest Contentful Paint: The time it takes for a page's main content to load. An ideal LCP measurement is 2.5 seconds or faster.
First Input Delay: The time it takes for a page to become interactive. An ideal measurement is less than 100 ms.
Cumulative Layout Shift: The amount of unexpected layout shift of visual page content. An ideal measurement is less than 0.1.
You can see what your core web vitals looks like in Google Search Console. Here's a sample from this morning for one Client. The top report is for their mobile experience and the bottom is desktop experience: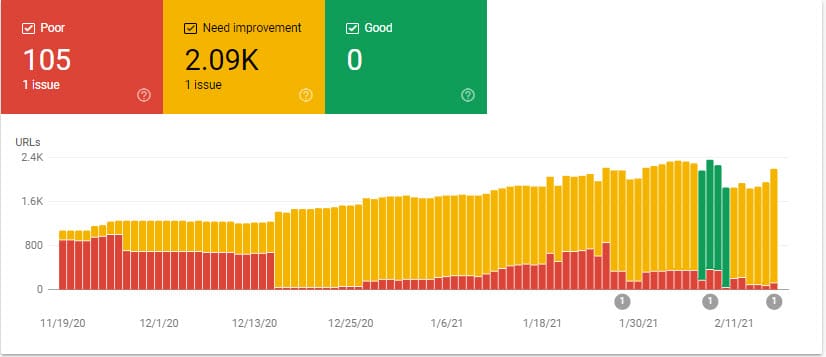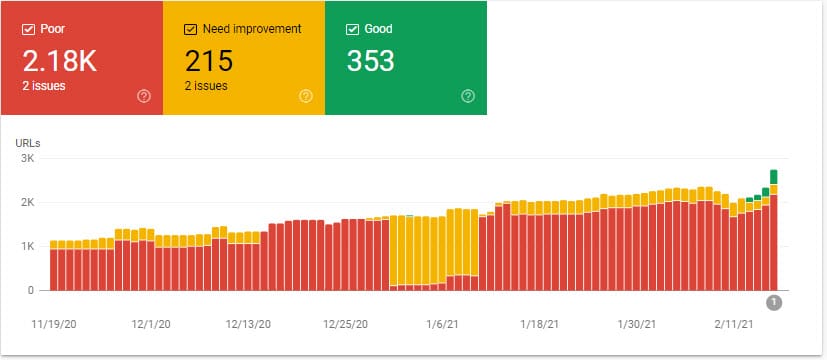 Nothing here is surprising – at least for this Client. They've been made aware of their issues and are working on a redesign. But because it's not rolling out for another month, I know for sure that any green in the last 7 days is there because of a change Google made.
As to why core web vitals are important to you? That's easy. Because they represent one of the ranking signals that Google will be looking at in May when it releases the Page Experience Update.